THE WORDS by Ashley Jade
Release Date: January 20th
Genre/Tropes: New Adult/Enemies-to-Lovers/Second chance romance with a hint of a rockstar twist
AVAILABLE NOW!!! FREE IN KU!!!
Amazon US: https://amzn.to/3Kmc5uG
Universal: https://geni.us/TheWords
Add to Goodreads:
https://www.goodreads.com/book/show/57797137-the-words
Blurb:
He was the talented bad boy everyone wanted.
I was the irrelevant geek everyone hated.
He was the sun…drawing all of us in.
I was a black hole…taking up space.
He was destined to be a star.
I was destined to remain an insignificant no one.
Until he made me believe I was special…
And then he destroyed me.
I never thought I'd see Phoenix Walker again after he broke my heart, but fate had other plans.
One tour. Eight weeks. Forty shows.
Countless opportunities to make him pay.
The world thought he was a God…
But I knew the truth.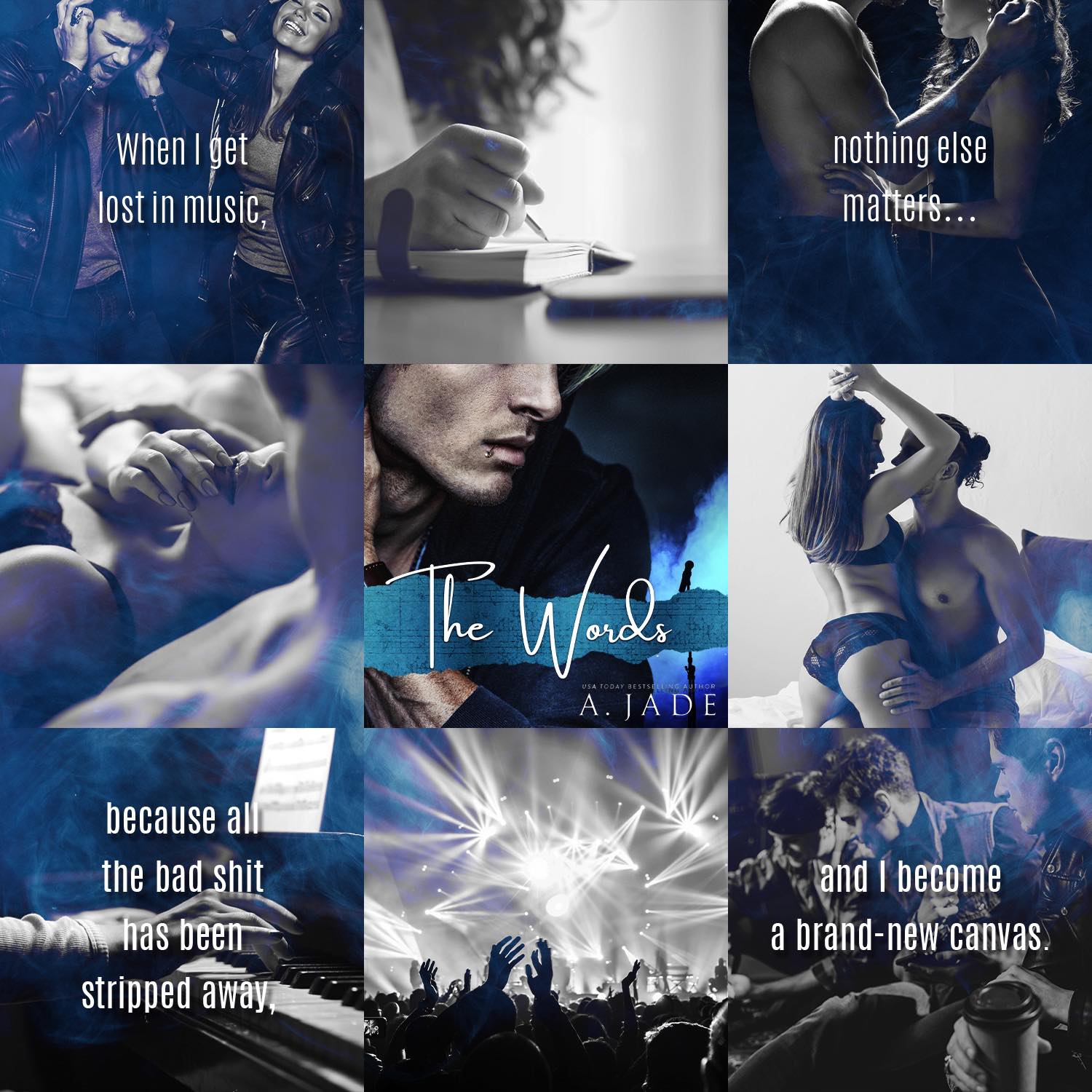 About the Author:
Ashley Jade is a Wall Street Journal, USA Today, and top 20 bestselling Amazon author who craves tackling different genres and tropes within romance. Her first loves are New Adult Romance, Contemporary Romance, and Romantic Suspense, but she also writes everything in between including erotica and dark romance.
Her characters are flawed and complex, and chances are you will hate them before you fall head over heels in love with them.
She's a die-hard lover of oxford commas, em-dashes, music, coffee, and anything thought-provoking…except for math.
Books make her heart beat faster and writing makes her soul come alive.
If she's not paying off student loan debt, working, or writing a novel—you can usually find her listening to music, hanging out with her readers online, and pondering the meaning of life.
Check out her Amazon page and Facebook page for future novels.
She loves connecting with her readers—they make her world go 'round.
~Happy Reading~
Connect w/Ashley:
Website: https://ashleyjadeauthor.com/
Facebook: https://www.facebook.com/Ashley-Jade-Author-788137781302982/
Twitter: https://twitter.com/ajadeauthor
Instagram: https://www.instagram.com/ashleyjadeauthor/
Goodreads: https://www.goodreads.com/author/show/14175946
Bookbub:https://www.bookbub.com/authors/ashley-jade
Amazon: https://amzn.to/2RGsIJ9
🎼Michelle's Review 🎼
Heartbreakingly beautiful
I have no words that will do this justice. This is definitely one of the best books I've read in a while. There is something about this authors work that always pulls me in and makes me feel as though I'm in the book watching everything unfold.
Lennon and Phoenix's story absolutely gutted me. I found myself crying through most of it. My heart wept for these two beautiful souls. And I just couldn't get enough. Their story is beautiful and is about how true love conquers all. The good, the bad abs the ugly. I'm so excited to get the stories of the other characters that helped make this book fantastic. Grab this jewel, you're going to love it!